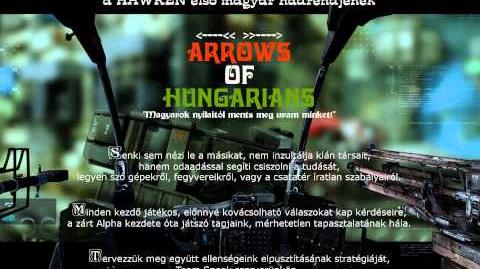 Arrows of Hungarians (AoH) is a clan based in the EU region and founded by Pocy, Togo, and Wh1sp3rFr0m0th3rS1d3 in early 2013. AoH wants to create a friendly and close knit band of players who help each other out (especially if they're new), with an emphasis on the Hungarian subsection of the Hawken community. As such, communications and announcements in the thread tend to be in Hungarian. The clan does have an appointed member charged with English communications, 00geri20. AoH's official thread can be found here.
Activities
Edit
Currently, AoH engages in weekly scrims with the Critical Assist clan. The clan's main activities together involve group matches on various maps and gamemodes.
Recruitment
Edit
Being Hungarian or being able to communicate in Hungarian is preferred. High skill or game experience aren't required.
Teamspeak 3 server: 195.56.148.203
Email address: arrowofhun@gmail.com
Official website: http://aoh.shivtr.com/
Steam group: http://steamcommunity.com/groups/aoh-arrows-of-hungarians
Youtube channel: https://www.youtube.com/channel/UC7cObsEIkop-g106KPeokuQ
Ad blocker interference detected!
Wikia is a free-to-use site that makes money from advertising. We have a modified experience for viewers using ad blockers

Wikia is not accessible if you've made further modifications. Remove the custom ad blocker rule(s) and the page will load as expected.