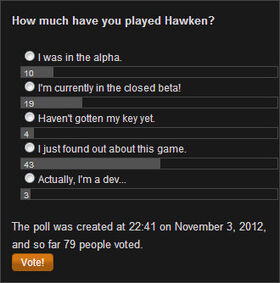 Thanks to the
79 people
who voted on November's poll! And the results are in: How much have you played Hawken?
"I just found out about this game." (43 votes)
"I'm currently in the closed beta!" (19 votes)
"I was in the alpha." (10 votes)
"Haven't gotten my key yet." (4 votes)
"Actually, I'm a dev..." (3 votes)
The new poll asks what your favorite mech is. Check out the mechs page and the specialized articles for mechs to decide!
Ad blocker interference detected!
Wikia is a free-to-use site that makes money from advertising. We have a modified experience for viewers using ad blockers

Wikia is not accessible if you've made further modifications. Remove the custom ad blocker rule(s) and the page will load as expected.